Brief Analysis of Advantages of Inflatable Tents
Nowadays,tents are commonly seen everywhere. They're used for advertising,camping,party,emergency rescuing etc. Generally tents are mainly made up of support poles,ground pad and cover. Even though there are many types of tents,while most covers are made of fabrics,canvas or tarpaulin. To classify the tents,people usually prefer to distinguish two types of tents by support poles. In a general way, there are two kinds of support poles, metal ones and inflatable airbeams.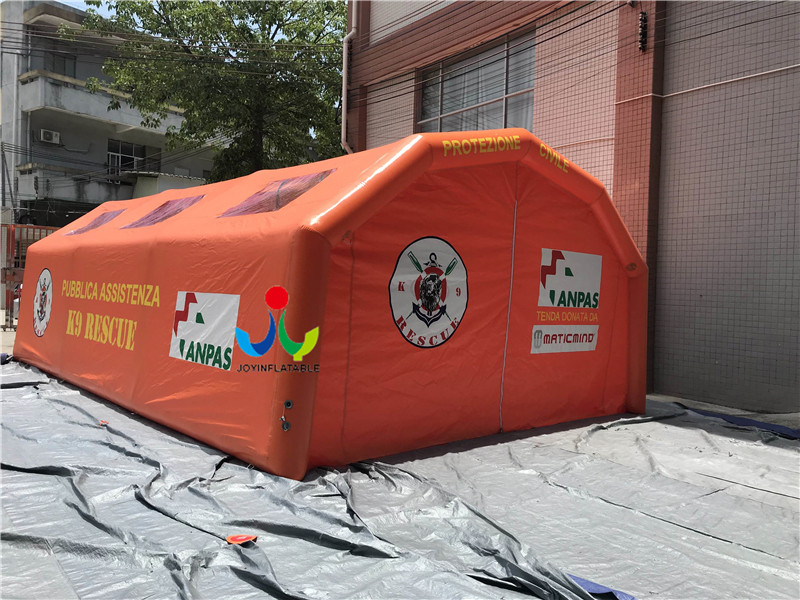 Tents with metal support poles came out with a long history. It's widely used and well known with people all around the world. On the contrary, inflatable tents grew popularity in recent years and few people were aware of its existence. While the inflatable tents are accepted by more and more people these years. There are several factors which make it become popular.
(1) Weight. Compared with tents supported by metal poles,inflatable tents are much lighter. To support the tent,many poles are needed. As for giant tents,thicker and bigger amount of metal poles are applied. As a result,the total weight will be quite heavy. As for the inflatable tents, the support poles are airbeams. Inflatable airbeams are made of reinforced environmental PVC tarpaulin which is much lighter then metal poles.
(2) Volume. Inflatable tents are using soft tarpaulin materials. After deflating,inflatable tents can be folded. As regards metal ones,due to the metal support poles,those tents can not be packed as you wish. It will occupy more space.
(3) Transportation. From last two paragraphs,we can see that the inflatable tents are lightweight and smaller. After deflated&packed,an inflatable tent can be put into any normal car's trunk. However, a large truck will be needed when loaded with overlength metal support poles.
(4) Assembly. For example,many campers may encounter various troubles when assembling a tent first time. That's because there are many support poles. To beginners,it's complicated and difficult to understand so many different parts. For experienced campers,it still takes quite a few minutes finishing assembly. In regard to inflatable tents,it only needs a blower. By following the correct instructions,a giant inflatable tent will be inflated and set up within 5 minutes. It needs fewer labor and less time.
In addition, inflatable tents are better of airtight performance and durable. What's more,inflatable tents are using fireproof and waterproof materials.

For more reliable and economical tents,clickhttp://www.joyinflatable.com for more.