Inflatable Tents
Tent, normally serve as a shelter consisting of fabrics or other materials. It's commonly seen and used. Its history dates back to thousands of years ago. It's said that the tent was first used by nomads. Back then,tents were used as shelters only. After thousands of years development,tents are now used for various purposes.
Modern tents are mainly composed of metal poles and fabric cover. Compared with traditional tents, modern tents are more lightweight and easier to be assembled&disassembled. Based on the uses,tents can be classified into several types. The common categories are recreational, commercial advertising ,military,emergency, temporary shelter etc. Sometimes tents may be used to form camps in protest movements in some countries. Since human activities become more complicated and diversified, people are always chasing better solutions to shelters. Even though modern tents have many advantages over traditional ones,sometimes people can not get satisfied due to some shortcomings,such as heavy weight, assembly problems etc. To fulfill higher requirements, inflatable tents are made as a trial.
Inflatable tent is a type of modern tents. Its popularity grows in recent years. The mainly differences between metal tents and inflatable tents are structure, materials and workmanship. The frame is designed based on structural mechanics. Its stability originates from the different intensities between inside&outside air pressure. Usually the covers are using environmental PVC tarpaulin,which is fireproof and waterproof. To support the tent, inflatable airbeams(poles) are applied. Generally inflatable tents are produced through sewing or welding workmanship. These two types of manufacturing techniques offer possibilities of customized shapes and sizes. There are cubic tents,dome tents, tunnel tents and other specified shapes of tents. The diameter of the inflatable airbeam can be from 2-40 meter depending on different tent sizes.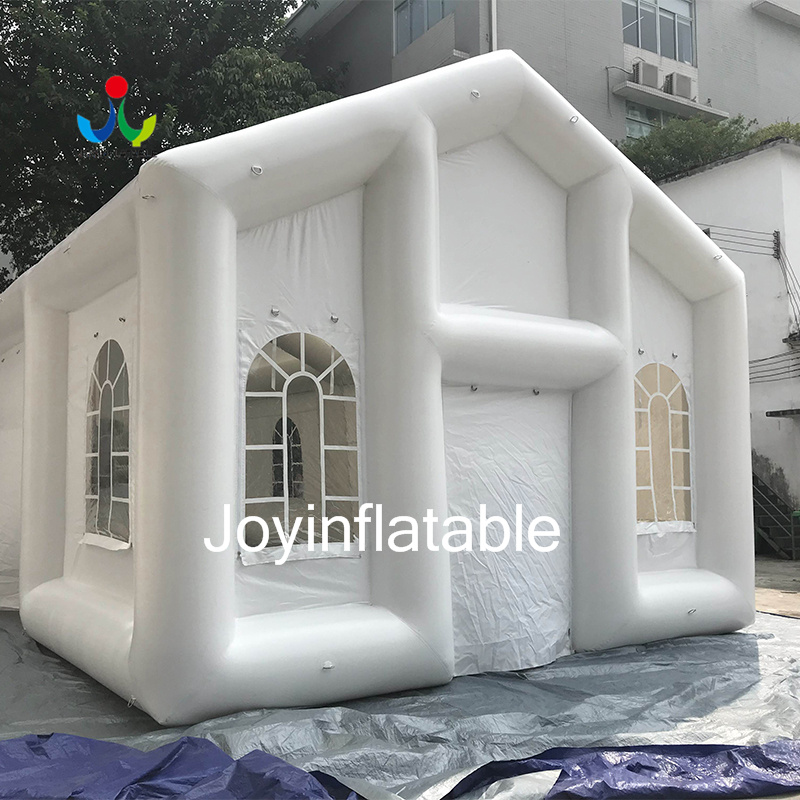 To sum up, there are several advantages of inflatable tents. Firstly, it's quite light which is easy to be carried with or transported. Since it can be folded, it can easily fit all kinds of vehicles. Secondly, it's quite convenient to be assembled. With an electric blower only, it takes a few minutes to set an inflatable tent up. Similarly, deflating process will finish in just a few minutes. What' important, it can be customized. You can demand for any shape,size,color you want.
Searching for high-quality inflatable tents, take a look at Guangzhou Joy Inflatable Limited(www.joyinflatable.com). You shall be impressed.