Materials
Durable 0.6 mm white color pvc /18.5OZ PVC coated vinyl which is waterproof ,fireproof and u/v protected
Warranty
3-5 years
Inflate and Deflate
Easy to install and take down

Workmanship

Air tight technology: Welder by Miller machine in high steam and reinforcement at joint part .
Features : work with the blower all the time
Printing
Logo printed by Digitally printing or Silk-screen printing
Air Pump(airtight product)
Air pump with CE/UL certificates, 110V/220V, various powers
Accessories
Blower or air pump , repair Kit ,Glue ,Carry bag (for free )

Package

Inflatable product is packed by heavy-duty PVC carry bag;
air blower/ air pump is packed by exported standard carton.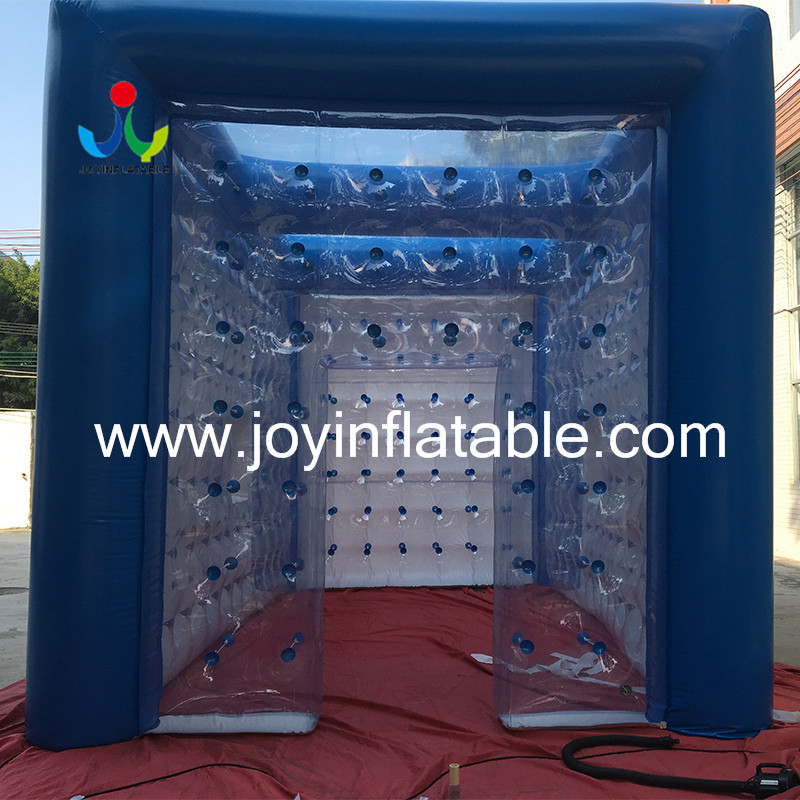 This is Inflatable party tent we made for our Thailand customer .Tent, normally serve as a shelter consisting of fabrics or other materials. It's commonly seen and used. Its history dates back to thousands of years ago. It's said that the tent was first used by nomads. Back then,tents were used as shelters only. After thousands of years development,tents are now used for various purposes.
Such as party ; exhibition; wedding ......

Where is the Inflatable Party Tents For Sale
bg
All kinds outside activities
1.For party event 2. wedding 3. As a store 4.exhibition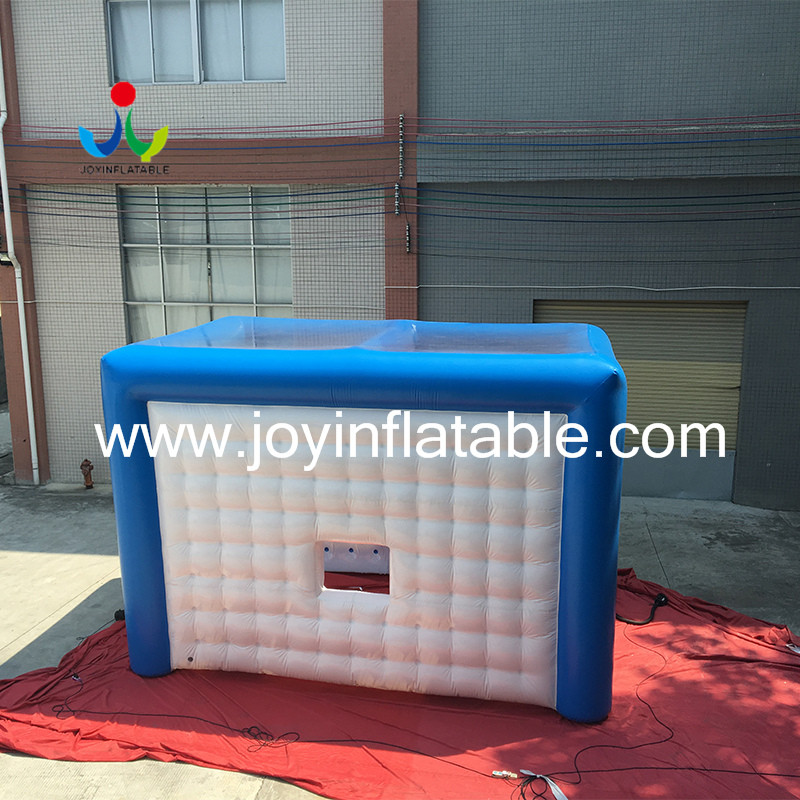 Windproof

The inflatable party house itself is very heavy to stand stably, we make D rings and match ropes for you to tie for more stability. You can also use sand bags or water bags to increase stability. However, please use depending on actual scene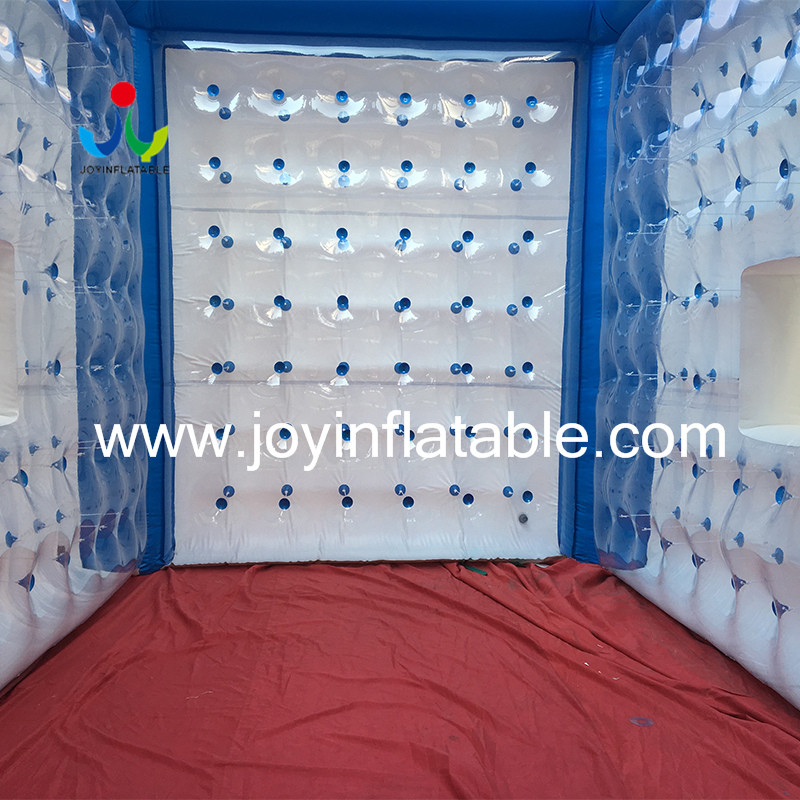 Waterproof

0.6mm PVC tarpaulin is waterproof and the airtight inflatables are made with high temperature multifunctional welding machine, which is necessary and efficient for massive waterproof airtight inflatables .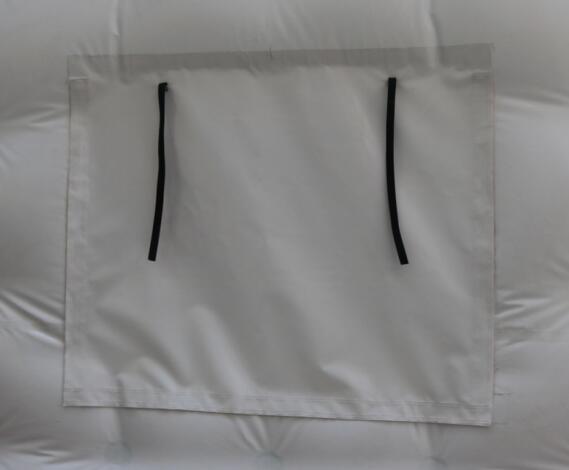 Technology

inside with 0.6mm transparent pvc and outside with 0.6mm white color pvc .Welder by Miller machine in high steam and reinforcement at joint part .
heat welding machine : High precision heat welding machine and elaborated welding work for the water park .we can perfectly seal all the material pieces together into any reasonable inflatables, and heat weld all of our airtight inflatables with top quality standard with high efficiency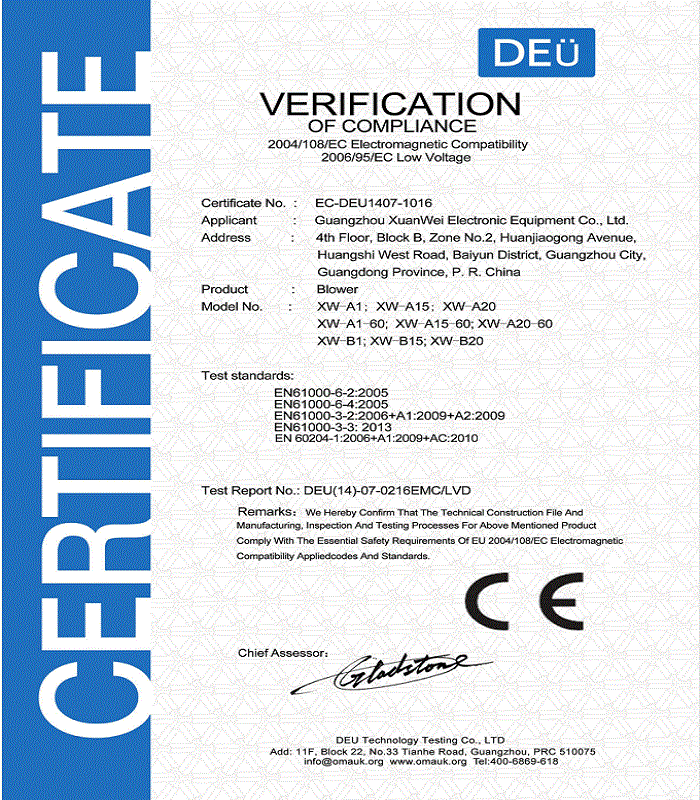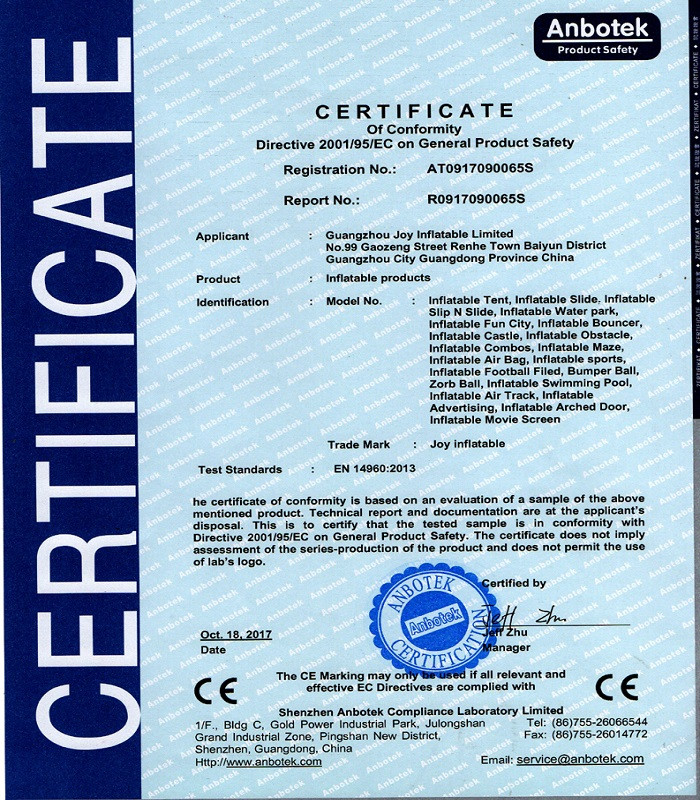 How to install Inflatable Party Tents ?

bg
1.To find space , long , wide and high enough to place the tent on the ground .
2.Clean up the site, not allow have sharp objects and high-voltage wires to keep safety .
3.It would be much better if put a cushion under it such as carpets, plastic color cloth protect the tent from sundries .
4.Spread out and flatten the tent on the ground .
5.Connect the air inlet of inflatable tent and the outlet of air pump
6.When the air pump switched on, inflatable tent will be inflated within 30 minutes (depend the size of the tent ).Because the tent is sealed so when the tent was be set up on the ground pls turn off the air pump
7.If there is a wind, fill the sandbag and tie it to D-rings on the bottom of the tent or tie the Stakes to D-rings on the bottom and insert the stakes in the soil .
How to do when Inflatable Party Tents Leak
bg
1. Check the leak point:
First, clean up the gas column and apply the surface with soapy water to check the leak point.
Second, find a quiet place (evening), full of gas, and then listen to a quiet circle around the inflatable tent, you will hear the sound of air leaks, and then find the root cause.
2, repair the leak point:
Need to use tools: pvc materials, glue provided by us. If the leak point is a small hole, you can use a small piece of pvc materials (there is a standard in the inflatable tent of any size), then brush the glue, and stick it to the leak after the glue is dry. The bonding is strict. If the leak is the opening of the air column heat sealing joint parts, it can be processed in the following steps:
First, clean the bonding surface first.
Second, the repair kit we will send with the tent together,and the repair kit with have a glue, brush it on the pre-adhesive surface, must be evenly painted, the thickness is appropriate, after brushing twice, you can bond.
Third, the shape of the adhesive interface must be designed to be circular or elliptical, try to avoid the shape of the square and acute angle interface, the overlap width should not be less than 30mm.
4. After the glue has evaporated, the bonding can be carried out. The patch must be flat, without wrinkles,roller pressure, scraping, and at the same time using a hair dryer to provide a heat source, easy to stick after 6 hours of bonding, it can be inflated. (Note: When repair the leak point the glue must be dried before bonding, the time is about 10-20 minutes)
1、free design
2、free repair kit and the After- sale Service