Inflatable Funcity & Land Castle
It's a trend that more and more parents tend to let their children play at inflatable funcity(inflatable land castle) with other kids at weekends or holidays. That's because inflatable funcity is full of pleasure and quite attractive to kids. What's more,it is a safe enough place where kids can enjoy fun and parents don't need to worry about. The reasons it gets popular may be included as follows.
1. The inflatable funcity,sometimes it's called inflatable castle, can be attractive form its name itself. The main players of inflatable funcity are little kids. Kids are always curious,active,energetic. They love to adventure and search for endless joy. Normally inflatable funcity is giant & colorful and made up of various recreational units with different shapes . Kids will be definitely attracted by it's beautiful appearance.

2. Inflatable funcity is made up of several different fun units. The common combination is high water slide and giant water pool. This kind of inflatable funcity is quite popular during summer times. Also there are other popular combinations, such as castle look funcity with maze & bouncing pads, U shape or round shape inflatable playground full of obstacles, truck or airplane appearance inflatable funcity combined with slide and jumping cushion, bubble balls pool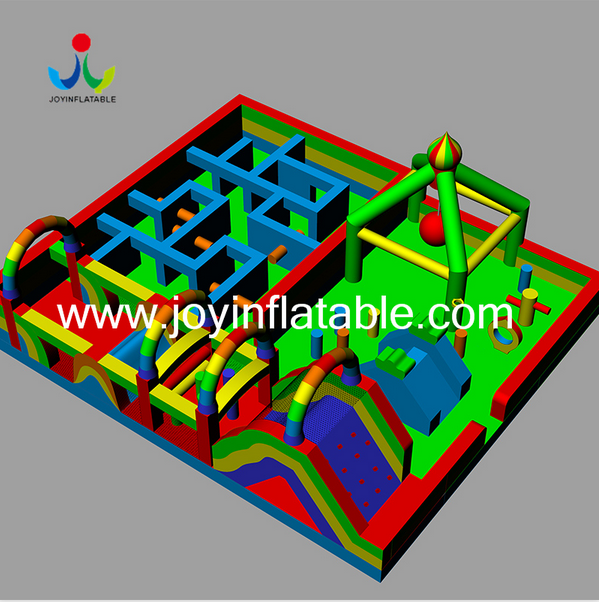 with central giant slides etc. All of the inflatable funcity can be customized as per customers' designs. So there are also many unique and special inflatable funcity created by inventive people all over the world.
3. Inflatable funcity is made of environmental PVC material,which is non-toxic,waterproof,fireproof and u/v protected. And all the pvc materials are tested strictly regarding strength performance. What's more, it's very soft. Kids feel comfortable when playing on it. In a word,it's a kind of materials which is strong and soft at the same time. This makes inflatable funcity safe and comfortable.
4. Logo and pictures can be printed on inflatable funcity according to customers' requirements. There are two types of printing, digital and silk screen printing. They are both advanced technologies which can make sure HD printed pictures . With the help of advanced printing,it's available to produce many pretty and excellent inflatable funcity.

Click
https://www.joyinflatable.com/inflatable-funcity for more details.