Inflatable Floating Water Park
Inflatable floating water park ,also known as aqua park,is a type of theme parks. It's originated at 1940s. A inflatable aqua park usually includes swimming pools,water slides, water playgrounds etc. It's fit for both adults and children. You can experience all kinds of exciting games there. It's popular with people all over the world. America has the largest water park market,while other countries develop fast too in this area. Many new water parks are opening year by year.
A giant water park can accommodate thousands of people at the same time. While it usually covers a large area of land and costs much in terms of building,maintaining&management. To resolve this problem,the inflatable floating water park is created as a solution. Its size,shape and combination of function can be customized. Normally,it's way smaller than an amusement water park. What's important,it costs much less. With those advantages mentioned above,the inflatable floating water park becomes an excellent and economic choice .
To some degree,an inflatable floating water park is a miniature of normal water park. It can also contain inflatable tower swing,inflatable bridge,water roller,inflatable totter slide etc. Sometimes,an inflatable trampoline bouncer or floating bungee trampoline is included in accordance with customized requirements. According to different designs, different entertainment parts can be assembled together though customized workmanship.
There are several unwritten standards (which are accepted widely )of inflatable floating water parks. Basically, it should be possible for players to climb,jump,run,sit and walk on each parts of it. Which means peoples shall feel free when they are playing on it. Strong and soft materials are needed then. Generally, the 0.9mm reinforce environmental PVC tarpaulin is used as the main material. Normally this kind of PVC tarpaulin is water-proof and flame retardant and the easy to clean . To ensure safety,fine workmanship is applied. Heat welding technology is used to make sure the floating water park has good air tightness. Moreover, an inflatable floating water park has several air relief valves. The temperature is quite high in summers,which will increase the inside air pressure of floating water park. The air relief valve works as an adjuster which can keep the inside air pressure normal.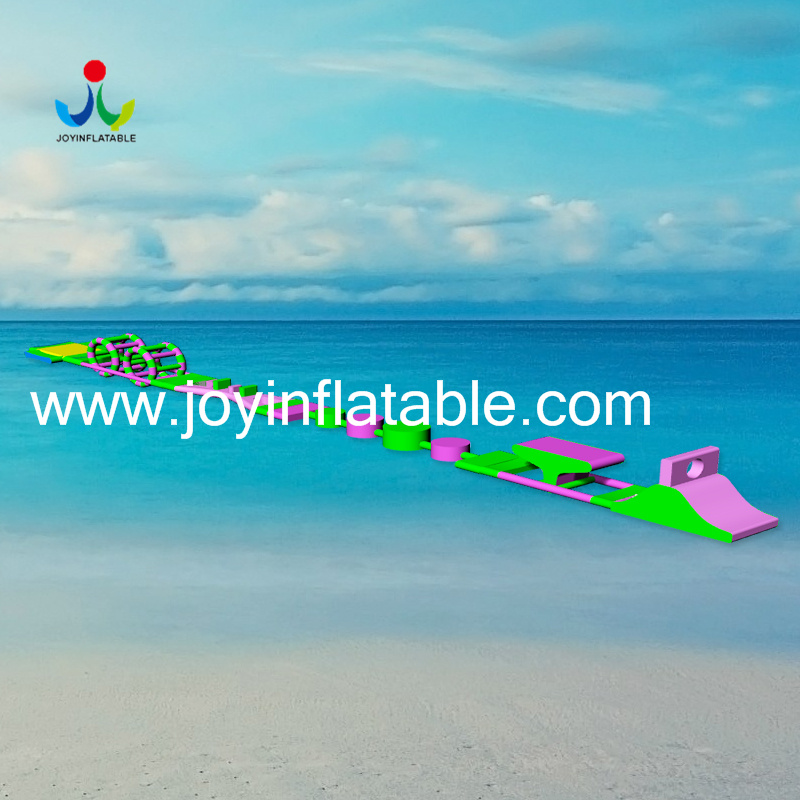 With strong&soft materials ,fine workmanship and scientific design, the inflatable floating water park is safe enough and full of joy. Economically,it's durable and can be used for years.
Guangzhou Joy Inflatable Limited has been working hard to create and produce high-quality inflatable products,such as inflatable floating water park,giant inflatable tents,inflatable air bags etc. It is reliable since it has hundreds of customers from over 40 countries. To find more,you can check in www.joyinflatable.com .