It's a trend that people prefer light and assembled things when organizing activities. For example, giant tents are commonly seen among weddings, promotion activities, exhibition , music festival ,entertainment parties etc. There are several types of tents, such as cloth tents, inflatable tents and so on, among which the inflatable tents are becoming more and more popular with people worldwide. The brief introduction below shows what the inflatable tents are made of and the different applications.
Normally, inflatable tents can be classified into several types based on different factors. According to the workmanship,there are two types,the sewing one and the welding one. Based on the shapes ,the tents can be made into cube ,dome, tunnel and other specified shapes. As for the application, inflatable tents are divided into commercial,civil,military categories. While sometimes people prefer to distinguish the inflatable tents according to materials,generally PVC and oxford cloth. Above are the common types of inflatable tents.
Regarding the workmanship, inflatable tents are normally made through sewing or welding. The difference of craftsmanship leads to different product features and applications.
As regard the sewing one, it's usually produced by a sewing machine. The material applied is environmental PVC tarpaulin(thickness=0.4mm/0.5mm/0.6mm) or oxford cloth. Some may worry about the waterproof performance of sewing tents. Usually waterproof transparent PVC strip is used to cover the sewing pinhole,which can avoid the rain coming inside. Please see picture shows below.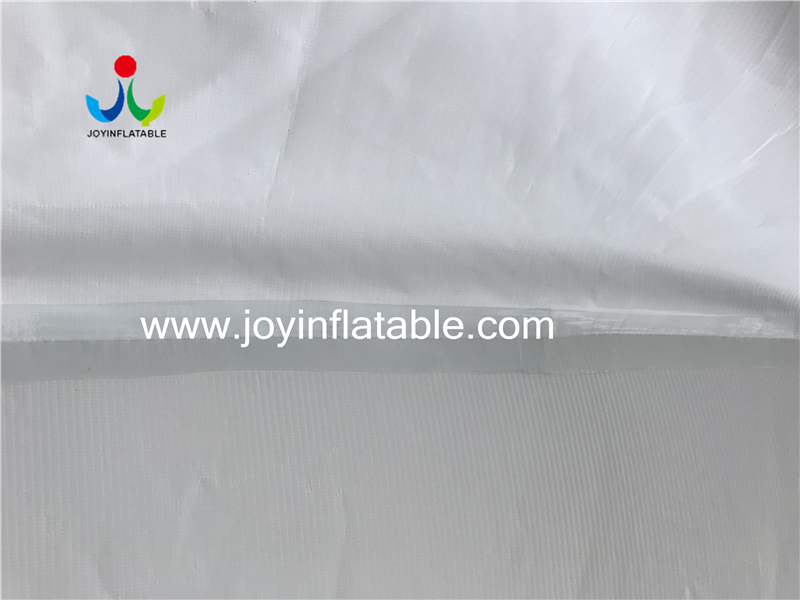 This type of inflatable tents needs to be inflated by an electric blower continuously in use. It's suitable for short-term use,like several days. If you are looking for a light and removable tent which needs to be moved frequently in an activity, this might be a good choice.
As for the welding one, it's normally produced by a welding machine. It mainly uses environmental PVC materials (thickness=0.6mm/0.9mm/1.0mm) . Since it's made through welding, it's airtight and 100% waterproof. This is the airtight kind of tents. It needs to be inflated once only. With strong material and fine workmanship, it's durable for using. It can perform well continuously for 2 months. Meanwhile, it has relief valves which can control the tent's inside pressure. After 1-2 months use, it needs to be inflated again to ensure proper pressure.
Welcome to GUANGZHOU JOY INFLATABLE LIMITED customized your tent